Greeting Cards
Date Posted: 30 March 2017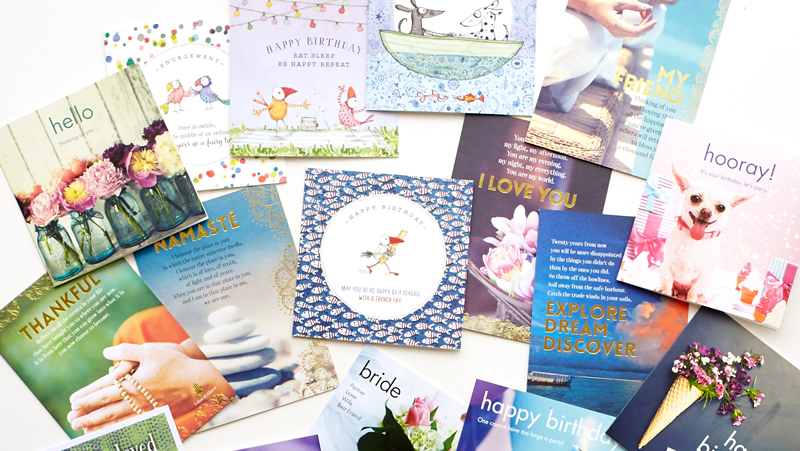 In 2017 we'll be adding to the Affirmations card range when we introduce the True Collection. We'll get your thoughts on the designs in the next couple of weeks. In some truly exciting news Affirmations Publishing House is on its way to London to show its wares at the Progressive Live 2017, the Uk's biggest greeting and gift trade fair. Exciting times indeed.
These best-selling greeting cards include a splendid collection of messages told through the whimsical and joyful Twigseeds characters. Designed to uplift the human spirit, these cards are sure to touch hearts.
The Twigseeds juggernaut continues to roll out best sellers. Your customers have been, dare I say, as happy as a seagull with a french fry.
Here are some of the new cards that have been flying in 2017:
K219 - XOXO.
K220 - Happy Birthday you are oarsome.
K215 - Congratulations. Welcome little star of the universe.
K214 - Twinkle twinkle you're a star.
K206 - Life is for deep kisses…
It's not just the new cards that have been running hot. These tried and true designs have been consistently topping yours and your customer's orders.
K132 - Many people will walk in and out of your life, but only…
K150 - Happy Birthday. May you be as happy as a seagull with a french fry.
K178 - Happy Birthday you gorgeous creature!
K191 - The littlest feet make the biggest footprints in our hearts.
Kate Knapp and her team are currently working on new artwork for a new collection of cards. They will be available later in the year. The world waits with anticipation.
---
The Affirmations A series Greeting Cards. Our heartfelt, deep and emotive collection have made the quantum leap from boutique to mainstream. Sales of these beautifully designed, luxurious, and meaningful gold foiled cards have grown by over 50% in the past six months.
The biggest online sellers in 2017 are:
A39 - Believe. You have untold strength and courage.
A52- Live your dreams. Be grateful. Give love…
A54 - Friends are the angels that lift us up when our wings…
A57 - Celebrate the joyful, silly fabulous you. Live the magic…
---
The R series is our photographic range of bold images complete with affirmations that are inspiring, loving, memorable and fun. These cards invite you into a world where the everyday ordinary becomes extraordinary. The latest evolution of these long time best sellers has proven to be a winner.
The biggest online sellers in this range so far in 2017 are:
R234 - Hey you. Celebrate the fabulous, joyful, silly you. It's your day.
R242 - Pitter patter. The tiniest things take up the biggest space in your hearts.
R243 - Bestie. without you, my selfies would be colourless.
R230 - Happy days. Live life like there's no tomorrow.
R232 - Friends forever. There is no end to shared adventures.
---
If you've got any themes or any new ranges you'd like to share with us, email your suggestions to online@affirmations.com.au
---
Leave a comment