Diaries & Planners from Affirmations
A life worth living is a life worth recording. At Affirmations, we believe diaries are a magical way to preserve your memories. They become the backbeat to your life. A mindful collection of the moments that makes your life incomparable. At Affirmations, we annually produce a beautiful range of diaries to help you keep track of your work and life. Our diary range features daily affirmations to inspire, a theme for each month and colourful designs to stimulate the senses. So whether you plan to fill your diary with your intentions, memories and hopes or to jot down timetables, deadlines or grades, our diaries are as beautiful as they are productive!
This category is empty! Please try another category or use our search function to find what you are looking for. If you require further assistance please contact us.
Kind, strong and adventurous
Never forget a public holiday, your best friend's birthday or when the moon will be full. Affirmations diaries are not just places to jot down information, but they're informative. Each month features a beautiful image and words that will inspire you to be kind, strong and adventurous, to name a few. of the monthly themes.
With an Affirmations Diary, your dreams will come true. Honest. Write them down and the beginning of the day and reflect upon them at night to help you untangle your issues and grow your life's garden. Think of your diary as a time capsule; one day, you'll look back and get a true sense of what your life was like back in the days
Benefits of an Affirmations Diary
Research has shown that personalities who keep diaries are more discerning as they develop sufficient preparation, monitoring, and self-questioning strategies. Being organised is a crucial part of developing mindfulness and, in doing so, stimulates the brain. So you could say an Affirmations Diary will make you smarter. Impressive eh. The diary is also a place to practice your very own affirmations. Write them down; you could be a miracle in action.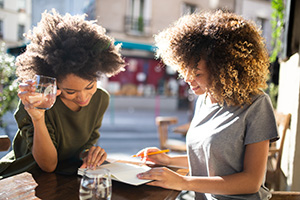 Did you know that sales of paper diaries are rising, not falling? In the digital age where we are all dialled into our devices pretty much 24-hours a day, it's interesting to see diaries are making a comeback.