It's business As Unusual
Author: Nick Vale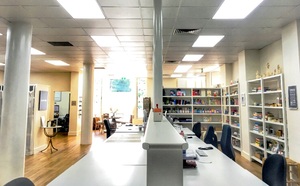 Where is everyone? The warehouse team are still hard at it safely picking, packing and getting your orders out. The rest of us are at home, eating chocolates and playing with our jigsaw puzzles. Only joking, we're not playing with our jigsaw puzzles.

Our Customer Happiness Team is working remotely, and our creative angels are still producing, positively engaging new products. It's business but not as we knew it.

It seems there has been a resurgence in putting pen to paper and then posting it. Australia Post has seen significant growth in people sending letters, greeting cards and small gifts. We are also seeing stories about how the written word is connecting and in some cases reconnecting isolated friends and relatives. Let your family get their pens, pencils and crayons out and start writing, who knows you might have a budding poet or author living with you.

If you need any help with your order, accounts, product searches or delivery, please reach out to our team of happiness experts, Freecall 1800 222 254. You can also email them at sales@affirmations.com.au with any queries

We will continue to provide you with updates on any changes that may impact you, but in the meantime, please stay safe and get your pens out.

At Affirmations, we believe the best is yet to come.
---
Leave a comment