Join our Handwriting Evolution
Author: Nick Vale Date Posted: 1 April 2020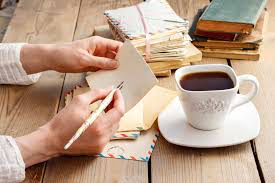 Let's celebrate letter-writing. It will help all of us get through the uncertainty and the challenges beautifully. I grew up writing letters. As a child, there were thank you notes, of course, and pen pals in America and England and postcards to send when travelling, there were also competitions. I have collections of letters which serve as my personal archive, in which I will never be gone/departed.
I've been thinking about letters as a form; wondering about the differences between letters-on-paper and emails, reflecting on my own letter-writing history. And so, the idea was born. I am asking you to send letters; real letters, written by hand and sent through the post. I remember how exciting it was to receive a letter in the post. I hope they will take the form of stories, essays, poems, memoirs. I guarantee almost everyone will write about the nostalgic and rare pleasure of sitting down and writing a letter.
There will be poor handwriting and aching hands. Add sidenotes, endnotes tucked into margins, diagrams and doodles, pressed flowers, or even a lock of hair. Letters can be scented and not always deliberately. Letters may be torn, and marked, and all of them will show the traces of the journey they had made from the place where they were written.
Letters are physical objects, with all the tactility and uniqueness and marks of time. It is these marks of time that distinguishes letters from emails and other forms of instant, here today, gone tomorrow digital correspondence.
Join us and kick start the writing revolution. Go old school with Affirmations; connect with your family and friends and ensure the memories you write today last a lifetime.
---
Comments (1)
Letters

I absolutely love writing letters, although it had been an every now and again thing. Since isolating, I have been writing a letter to someone every day and it has been such a gift to my soul. Some of the recipients have been so excited to receive a hand written letter in the post. What a beautiful gift this activity is and so much nicer (I feel) than an electronic message.
---
Leave a comment