Buy Calendars
There's something so soothing, so steadying, so satisfying about paper calendars. Whether annual calendars or everlasting, wall calendars never move; they're always there, appealing, organised, and waiting to prove that your schedule isn't that overwhelming. And they're pretty. Each month above the squares, there's something beautiful to look at. Then, of course, we also have gorgeous spiral-bound everlasting desk calendars; they help make every day and everything you do feels under control, planned and recorded.
Annual, Everlasting or Desk Calendars
A wall or desk calendar can be so much more than a handy space to mark out family birthdays, plan out your meals or document your favourite events. When you buy calendars from Affirmations, you can record life's magical moments, celebrate family occasions and holidays with a calendar that's almost as beautiful as you! Our Twigseeds calendars feature whimsical characters and messages about life, family and friendship, with the masterful art of Kate Knapp.
The Twigseeds Everlasting Calendar is one of ours and Australia's most popular, remaining relevant year after year, helping you to document birthdays, anniversaries and special memories. This perpetual calendar is beautifully illustrated, as Kate Knapp gives flight to a world of familiar and colourful characters!
The Twigseeds 2022 Wall Calendar is available now. Hang it in your kitchen, your bedroom or family room. Keep it at work. Each month is an adventure, filled with beautiful illustrations of Twigseed feathered philosophers and more. Every month includes wise affirmations, and positive quotations. The Twigseeds Calendars will even help you remember public holidays. Brighten your day up every day with a parade of Australia's favourite illustrated characters.
Sustain your Calendars
When it comes to sustainable wall calendars can be repurposed. If you've got an archived area, they are also perfect to look back at and remind yourself what happened 2 years ago, 5 years ago...they have a life of their own. If you don't have the space to keep your annual wall calendar, Jill Nystul has some great ideas:
Make a notebook - repurpose an old calendar page as the cover for a small notebook, a diary or a series of your child's school books
Decorate gifts - you could use a big calendar page to wrap a small gift!
Make postcards and send them through the actual mail system.
Make a gallery wall - it's the cheapest way to surround yourself with art.
Mod podge everything - make coasters, decoupage furniture.
Make candle votives - all you need is a glass jar, some mod podge and of course, a candle.
Donate them - schools are always on the hunt for art supplies.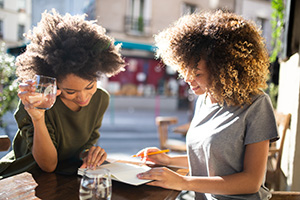 Did you know that sales of paper diaries are rising, not falling? In the digital age where we are all dialled into our devices pretty much 24-hours a day, it's interesting to see diaries are making a comeback.