The Joy of Giving
Author: Suzi Maher Date Posted: 5 November 2020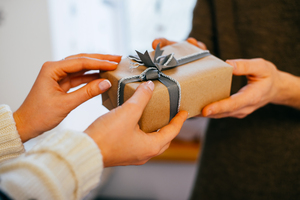 A little giving goes a long way. Just by being a little more generous makes us healthier and happier according to Professor Stephen G Post PhD, internationally recognised for his work on the unselfish compassionate love and human fulfilment. You must have experienced it in life. When we have given something or done something for someone it actually gives us a sense of satisfaction and makes us feel more positive about ourselves. The more you give, the more you receive. The mere act of giving fills a person's life with joy and his own happiness multiplies. The more you do for others, the better shape you're in. There is a powerful psychological principle at work here that underlies the psychology of giving.
When we experience ourselves as givers, we receive a deep and enduring affirmation of our value to others. In transcending the self, we obtain the most profound experience of self. Doing a kind act to make someone who is sad feel better can also make us feel good – partly because we feel the same relief they do and partly because we are putting something right. Being kind opens up many different possibilities to start or develop a social connection with someone.
Kind acts such as a buying someone a thoughtful present or even just a coffee strengthens friendships, and that in itself is linked to improved mood. Recipients of kindness generally want to keep paying it forward, says James Fowler, professor of medical genetics and political science at the University of California, San Diego. A single act of kindness typically inspired several more acts of generosity. You can think of it as a domino effect of warm and fuzzy feelings.
Most people would like to think of themselves as a kind person, so acts of kindness help us to demonstrate that positive identity and make us feel proud of ourselves. Being kind may boost your mood, but research has also shown that being in a good mood can make you more kind. This makes it a wonderful two-way relationship which just keeps giving.
Some beautiful things to give…
Loving Kindness rrp A$ Earth Abundance – rrp A$24.95
The Book of Happiness - rrp A$24
The Deep – A calming sea of thought for reflection and quiet. rrp A$9.95
Philosophy – Inspirational quotations and thoughts. rrp A$24.95
A Little Book of Happy Thoughts – rrp A$6.95
Wellbeing. rrp A$19.95
Little Affirmations – Tenderness. Rrp A$15.95
Thanks to The Charitable Brain and Happify for their inspiration. https://thecharitablebrain.wordpress.com/ https://www.happify.com/hd/the-power-of-a-single-act-of-kindness/
---
Leave a comment